Queens Garage Door Opener Installation
Don't know the difference between an opener that has ½ horsepower and ¾ horsepower? Don't feel forced by companies trying to sell you their product without informing yourself of what you are going to buy and how it works.  You will feel more secure once you research garage door openers and see if you are getting your moneys-worth. 
Is ¾ hp better than ½ hp?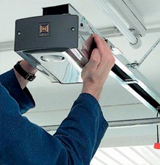 Well neither of them are bad at all.  It depends on the particular garage door you have.  If you have a light, wooden residential door chances are highly likely that all you need is a garage opener with ½ horsepower.  It is as reliable and durable as a ¾ hp opener the only difference is that ¾ hp is for heavy commercial doors that require a little bit more power than your average door.  So if you are the owner of a business and have a heavy loading dock door, it is evident that an opener with ¾ horsepower is the most prudent choice.  
Which Opener is the right one for me?
Call Now: 718-887-9564
What kinds of brands sell garage door openers? What do they have to offer? The most prominent garage door openers in the market are manufactured by the companies Genie and LiftMaster.  Both companies provide garage door openers with the same quality and same price however, LiftMaster is most commonly used and recommended. Both have high security rolling code technologies that change the access code every time you push the button on your remote control in order to prevent break-ins and robberies.  Both systems are very similar. They also offer safety systems that prevent the door from closing on objects between the garage door and the door path.  Both the Genie and LiftMaster have similar systems that contain automatic door stop and safety reverse.  However the LiftMaster door opener can be stopped at any height for ventilation purposes.  This is very crucial for safety especially if you have children or pets.
The drive is an essential part of the garage door opener.  There are different types of drives but the two main drives are the chain drive and the belt drive.  For those of you that do not mind noise and you have a commercial door (not attached to your home) your best bet is to purchase the garage door opener with the chain drive because it is the least costly. 
Call Now: 718-887-9564
For those of you that do mind the noise and you have a residential garage door attached to your house it would be sensible to purchase the belt drive.  If you live in a garage attached to the house and you're coming home late and don't want to disturb anyone, get the garage door opener with the belt drive it is discreet and inaudible.  Is the belt drive better than the chain drive? No, neither is better or worse they are equally reliable, your choice of the drive depends on your needs and environment.